Marble Wall, 6400m, Kazakhstan
This is the most Northern peak in Asia exceeding 6000 m. The name of this peak was given by one of the first explorers of the Tien Shan, G. Mertsbakher in 1902. Settled on the border of China and Kazakhstan, this summit is distinguished by the 500-meter high marble wall, in a peculiar way enclosed between massive glaciers. This summit is a challenge for those mountain-climbers who for the first time climb over 6000 meters.
Expeditions may be arranged during any season of the year but helicopter can be used in July and August only. The summit offers several technically simple but very extensive routes along the adjacent ridges and slopes up to 40 degrees steep. At least three intermediate camps must be set up at altitudes 4000,5200, and 5900 m. Even at 6000 meters, when expecting to set foot on a new ridge, you will enjoy the staggering view of the North Wall of Khan Tengri peak and encircling summits and glaciers of Kazakhstan and China. The ascent of Marble Wall peak is a good way to get acclimatized before climbing Khan Tengri and Pobeda peaks.
Attention of individual climbers! Super offer from KanTengri Expeditions:
EXPEDITION TO MARBLE WALL PEAK IN THE JOINT TEAM 06.08. - 23.08.2018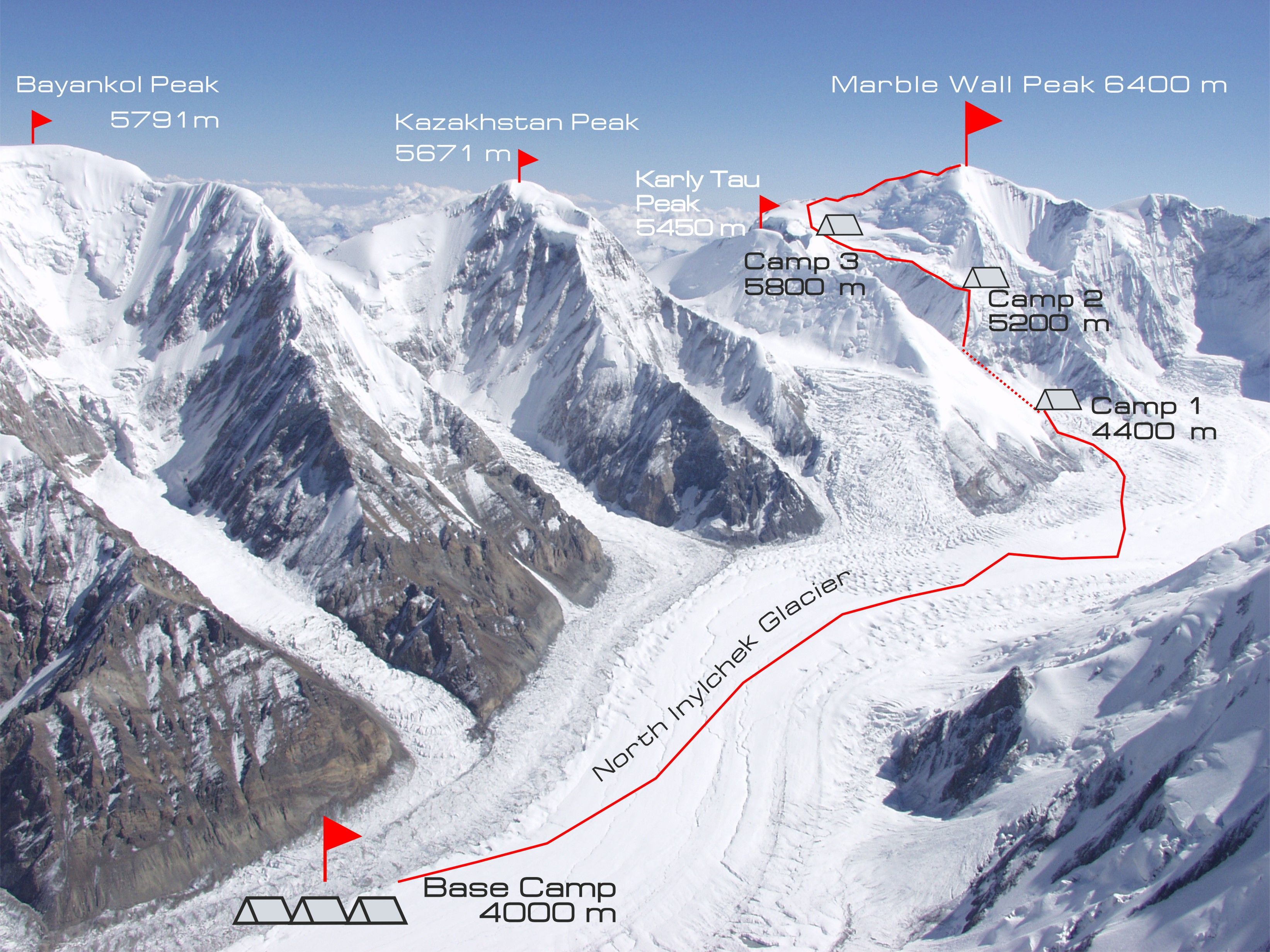 We organize guided expedition in joint team to Marble Wall peak, 6400 m.
 If you…
You do not have enough high-altitude background
Your background do not let you feel free on fixed-ropes
Feel difficult bringing climbing equipment shared with your partner alone
You would like to have belay partner on route to summit
You can not afford to hire an individual guide

This offer is special for you!
In 2019, we are bringing a group together Marble Wall peak, 6400m from the Northern side in joint international team with our guide! 
An experienced professional guide will lead the group together with assistants (one on each four climbers). The group will be equipped with 4&2-persons high-altitude tents, ropes, gas stoves &cylinders, sets of cooking accessories. High-altitude food will be purchased in advance (the list of food will be sent to each participant beforehand in order to make individual updating). Climbers are to bring their own personal equipment only and will concentrate in training for the ascent.
By the appointed date all participants will gather in Karkara Base Camp, discuss the expedition plan; our guide will make instructional advices and check the individual equipment. The group will make the acclimatization ascent and fly by helicopter to North Inylchek Base Camp.
This program will allow you to achieve the maximum result, make successful ascent and reach the summit of Marble Wall Peak!