Dear guest,
Thank you for your visit to our web-site!
Here you can find everything you need for travelling in Kazakhstan and Central Asia.
Together with our Company you can explore the Central Asian deserts or climb the world most nothernly peaks over seven thousand meters. Just click one of the options on the left menu to see what we can offer you to make your trip rememberable adventure.
WHY TOURISTS CHOOSE KAN TENGRI EXPEDITIONS ?
Experience and position:
Kan Tengri Expeditions was founded in 1986 and now is one of Central Asia's leading adventure and ethnographical tour operator based in Kazakhstan. We are à reputable and efficient company, which operate exclusive packages throughout the country:
expeditions in Tien Shan

 

Mountains, Pamir and Dzhungaria;

best trekking tours of different grade and duration;

cultural ethnographical  tours  along  the Great Silk Road

(Kazakhstan \ Kyrgyzstan \ Uzbekistan \ China)

4 WD desert raids along the paths of Silk Road

horse-riding tours in a mountains

sport-fishing (cat-fish in the Delta of Ili River and  trout in mountains)

ski tours and heli-ski programs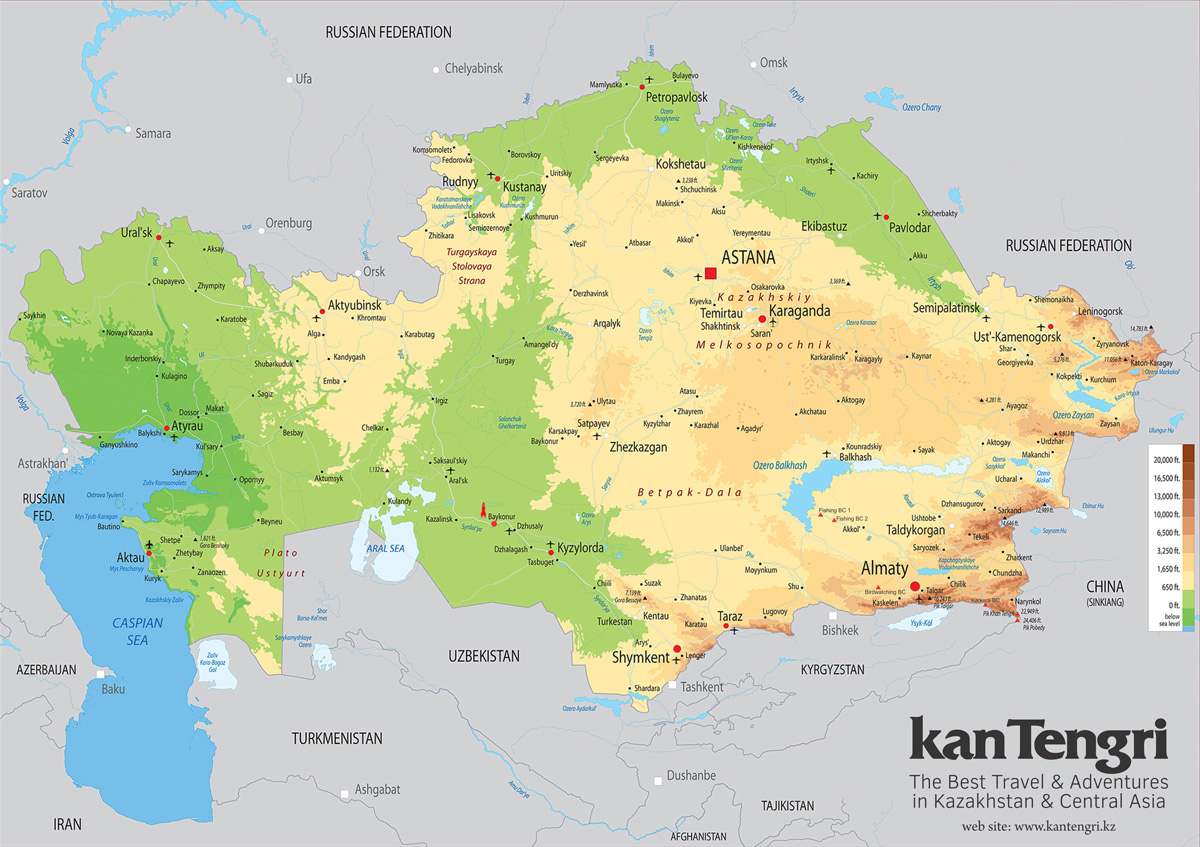 Kan Tengri Expeditions has the honor to be an official Partner of UNESCO and UNISEF in international projects for developing of ecological tourism and children's sport.
Kan Tengri Company Staff: We keep our own Mountain Service School which graduates certified guides, interpreters, cooks and porters for our company. We are well staffed to perform all functions in professional manners as well as on a high level of reliability and safeness.
Infrastructure: Our Company owns the famous Karkara Base Camp (the main helicopter port in Central Tien Shan) and another three Glacier Base Camps located at the foot of Mt. Khan Tengri, Mt. Pobedy and Mt. Bayankol. We have two most popular in area Birdwatching Base Camps named Kolshengel and Bartogoy. Our two Fishing Base Camps in Ile River's Delta are also very well-known in a World.
Kan Tengri has the only rescue service team on Tien Shan.
Our Head office is located in the center of Almaty city. We speak Russian, Kazakh, French, German, English, Korean and Japanese languages.
The President of the Company is Dr. Kazbek Valiyev. He is the first Kazakh person climbed Mt. Everest, who is also the President of Kazakhstan Mountaineering Foundation and permanent representative of Kazakhstan Tourist Association in the Government of the Republic of Kazakhstan. Dr. Kazbek Valiyev is the Founder Trustee of HIMALAYAN  ENVIRONMENT TRUST.
Sponsorship: Kan Tengri had organized 6 successful Himalayan expeditions for 44 Kazakhstan climbers. We have built 30 artificial climbing walls at public schools and involved more than 30 000 children in different areas of Kazakhstan to sport climbing. Kan Tengri was one of the main sponsors of the Memorial "To the perished in the mountains" built in mountains near Almaty. We hosted "The Tien Shan Alpine Summit» for the members of Union of Asian Alpine Associations (UAAA) and "Youth Cross-Cultural Mountain Conservation Workshop" of Himalayan Adventure Trust -Japan.
We operate well-equipped, selectively catered, safe and eco-friendly trips.     
Welcome to Kazakhstan with KanTengri Expeditions!