"Hidden Peak" Expedition, 6873m.
South Inylchek Glacier
Kazakhstan\Kyrgyzstan
The third highest peak of Central Tien Shan – Hidden Peak, 6873m. – located in Meridionalny Ridge and it is not visible from the popular tracks and base camps of South Inylchek Glacier or even from a board of the helicopter. The magnificent panorama of the peak can be seen from the slopes of Khan Tengri and Pobedy Peaks, from heights more than 5000 m.
The main top of the peak was climbed for the first time in 1965 by a team of the Kazakhstan climbers lead by Alexey Vododohov, the second ascent – in 1988 by Kazbek Valiyev and Valeriy Khrishatyi.
This very high peak over 6000 meters is accessible to beginners in high-altitude mountaineering as the route from the upper courses of Zvezdochka Glacier over Chon Teren Pass doesn't  have technical difficulties  and objective dangers.It is possible to make an ascent without preliminary acclimatization from Chon Teren Pass (5500 m.) during one day. The views from the Pass amaze imagination. The approach to the pass along Zvezdochka takes 2 days from South Inylchek BC.The ascent to the Pass along the icefall isn't hard.
A splendid view opens from the top to Pobeda Peak on Southwest and to Khan Tengri Peak on the North and Chinese Peaks over 6000m. on the East.
The ascent to this peak is recommended to all who has arrived for the first time on Central Tien Shan, and can be a perfect training before Khan Tengri and Pobedy's ascent.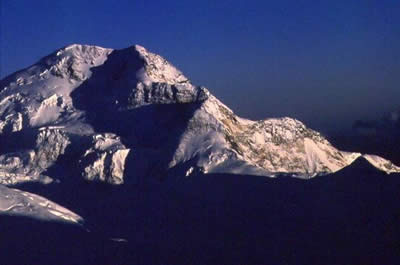 *the expedition will take place with the minimum number of participants - 4 persons