Enjoy the world of adventures with Kan Tengri Expeditions
For those who are always looking for adventures, Kazakhstan is a sacred symbol of the greatest trips to unknown distances, from the origins of migration of people from Asia to Europe, from South and North America to the Great Land and Maritime Silk Road and the first space flight.
The unique nomadic civilization, where a horse and a camel were tamed, where a wheel and a cart along with the portable house – felt yurt were invented, where bronze, cast iron and steel were explored, where star navigation and other key skills that are very useful in extreme weather conditions: beneath a scorching sun, through the cold of the wild desert, steppes and snow peaks are improving.
Kazakhstan is a homeland of cosmological cult of Eternal Blue Sky. It is a homeland of 5000 years old nomadic philosophy – Tengriism, which gave the huge world religions (Christianity, Islam etc.) an idea of monotheism.
The Great Atilla and Genghis Khan, who settled world's biggest empires in the history which became a prototype of today federal states, were born in Kazakh nomadic tribes.
Kazakhstan is world's ninth biggest country. It has a huge variety of different boundless natural landscapes, ancient and modern cities, exotic cultures, cuisines and crafts of 130 nationalities, that live here in peace and harmony.
On the eve of its 30th anniversary, Kan Tengri Expeditions is offering you a great variety of the best adventures and trips for your favorite hobby.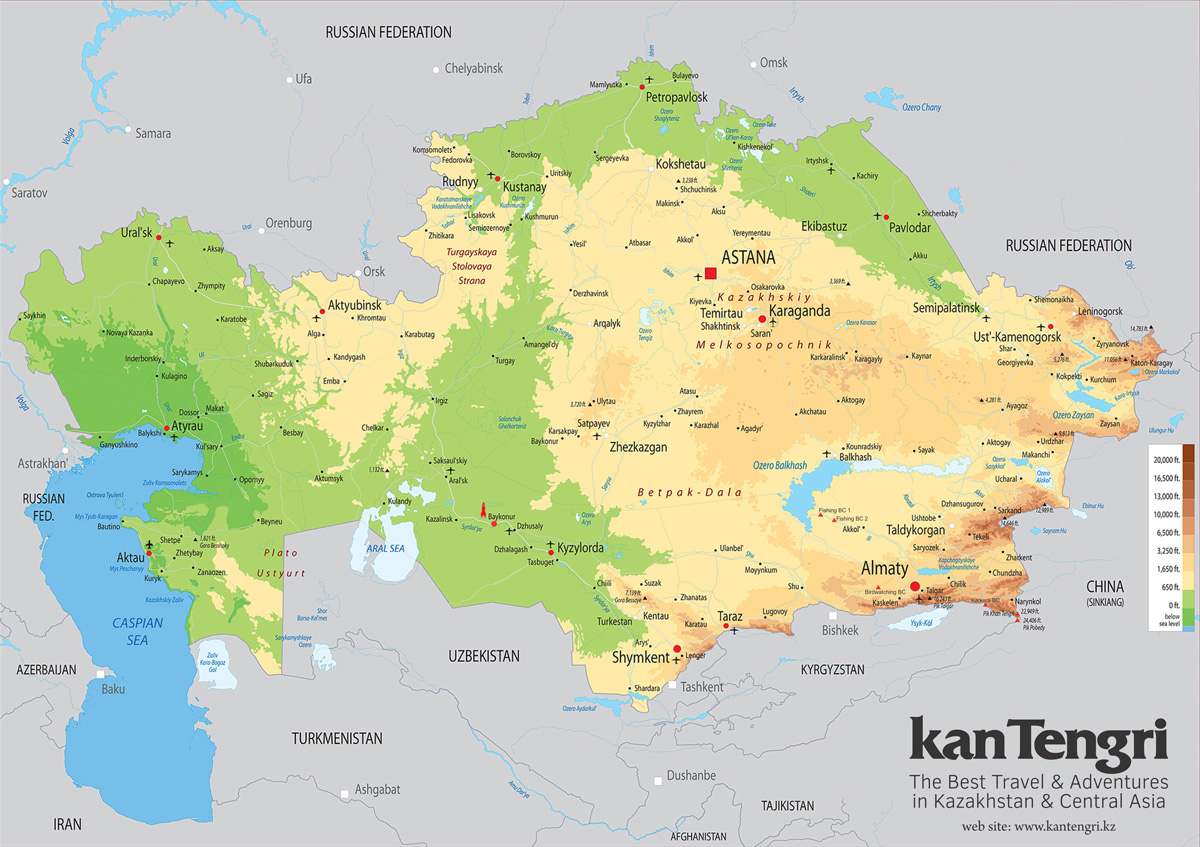 Brief information about Kazakhstan
Capital: Astana
Telephone code: +7
Area: 2 725 000 km²
Currency: Kazakh tenge
Population: 17,8 million
Official languages: Kazakh, Russian
Climate: sharply continental climate with distinct seasons
Highest point: Khan Tengri peak 7010 m
Time zones in Kazakhstan: in the West - UTC+5, in the East - UTC +6
Electricity: 220V, 50Hz, Europlug
Video about Kazakhstan